Over the past few years, scanning has become much more instrumental to the large format document workflow of many AEC (architectural, engineering, & construction) companies. Wide format scanning really makes a lot of sense when you think about it. Here are some key benefits:
Scan and archive large volumes of files and eliminate the wasted space of flat files.
Mark-up "as-builts" and catalog the changes.
Share and collaborate design and construction information easily.
Quickly scan and share plans with a vendor or customer.
When it comes to scanner hardware, there are two primary scanning technologies available - CCD and CIS. Let's look at differences between the two and compare CDD to CIS scanner.
CCD Type Scanner
CCD stands for Charged Coupled Device. In essence, this is the same type of imaging sensor found inside a digital camera. CCD uses an actual lens to reduce the full image onto the imaging sensor. This method is great for capturing very high resolution details along with widened color space.
It is because of the fine detail in the CCD type scanner that makes it the scanner of choice for higher resolutions graphics and artistic applications. Still it is common to see CCD type scanners that are used for AEC or technical scans as well.
Another benefit to CCD scanning is a greater depth of field. This is helpful if you plan to scan many folded sheets. With CCD technology, fold lines can be tweaked a bit through the scanning software so that they don't image as much in the scanned file. CCD scanners also have the ability to scan "mounted" or thick originals.
Advantages of CCD Scanners
High signal/noise ratio due to florescent lamp light source
Relatively insensitive to focus depth due to cameras with apochromatic lenses
Disadvantages of CCD Scanners
Higher equipment cost
More complex and fragile technology
Larger form factor than CIS scanners
Typically require digital stitching of multiple image fields
Lower optical resolutions
Lens distortion can sometimes be a factor
CIS Type Scanner
Contact Imaging Sensor is the other type of scanning technology. Instead of using a standard lens to reduce the original image onto the sensor, CIS technology incorporates many fiber optic lenses to transfer the original image information to an array of sensors. CIS technology is less expensive than the traditional CCD models.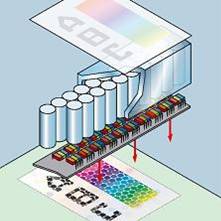 Since there are no cameras to calibrate and the sensors are controlled by software, there is much less maintenance with a CIS scanner. But, because of the poor depth of field of the optics, fold line and wrinkles will image with CIS. Also, there is a reduction of color space information with CIS. Unless you want to capture mainly primary colors, CIS could leave you wanting a little more.
But, keep in mind, although the physical CIS technology has some limitations, many manufacturers have overcome this by deploying sophisticated software that compensates for the CIS shortcomings. A great example of this is the Canon Color Image Logic employed by all fCanon/Océ wide format systems.
Advantages of CIS Scanners
Less Cost
High reliability
More compact
No stitching required
Higher optical resolution
No lens distortion
Disadvantages of CIS Scanners
Sensitive to focus depth
Lower signal/noise ratio due to LED light source
Takeaway
If you work with CAD/GIS drawings and you want to scan them to a digital format - CIS is worthy of your consideration. It certainly is the more cost effective solution and new, powerful software applications have narrowed the difference between CCD and CIS.
But, if your quality requirements are more demanding, such as photos or fine art, you should really be taking a look at a CCD scanner.
All Credits goes to Kevin Vaughan , TAVCO Inc.