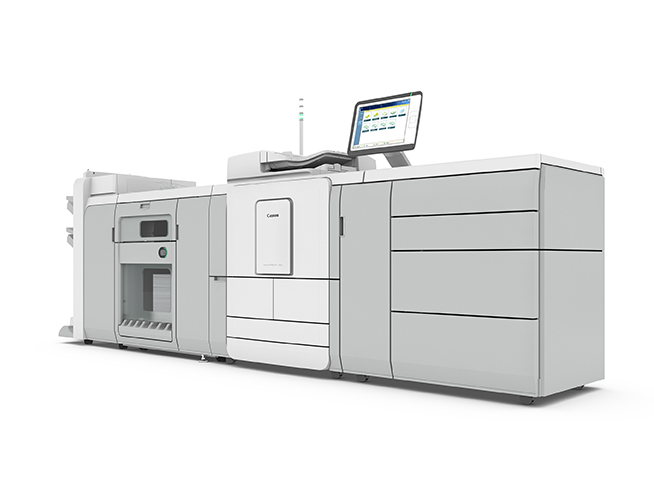 MELVILLE, N.Y., March 8, 2017 – Signifying a continued commitment to innovation and investment in the monochrome production print market, Canon U.S.A., a leader in digital imaging solutions, has announced the arrival of the third generation of the varioPRINT DP product line with the release of the varioPRINT 140 Series. Consisting of models that print at speeds of up to 140 ipm, 130 ipm and 115 ipm, the new Series incorporates the proven reliability that varioPRINT users depend on and features market-driven extensions to help print service providers who work with high monochrome workloads meet the deadlines, quality and flexibility expectations of their customers.
Positioned for small to mid-sized commercial printers and in-plants, the convenience, reliability and efficiency of the varioPRINT 140 Series makes the device optimal for environments with average monthly print volumes up to 800,000 letter-size images. Enhancements to copy and scan capabilities in the new series address the high document digitization needs in markets such as legal, healthcare and education.
"Monochrome printed documents likely affect all facets of our everyday life, from educational materials to legal briefs to books and user manuals. Understandably, monochrome printed pages are projected to remain the largest by volume in the coming years and there is still a strong desire for devices dedicated to black-and-white printing," said Toyotsugu Kuwamura, executive vice president and general manager, Business Imaging Solutions Group, Canon U.S.A., Inc. "The varioPRINT 140 Series highlights Canon's on-going commitment to answer the demands of all production markets. A worthy successor to Canon's previous monochrome devices, it provides reliability and versatility for environments with the need for efficient and cost-effective black-and-white production printing."
"It's interesting to note that monochrome printing remains a vital component of the business for many in-plants and commercial printers, which is why we continue to see investment in the new monochrome printing platforms from industry leaders such as Canon," said Dave Erlandson, General Manager of Caslon & Company. "Canon's next generation of monochrome presses is raising the bar. Long known for rock solid reliability, the varioPRINT line and the latest PRISMAsync capabilities will help enhance throughput and reduce labor costs as print service provider strive to be more efficient and profitable."
Integral Productivity
The varioPRINT 140 Series has the capability of producing peak volumes up to 2.2 million letter-size images per month and features Canon's unique productivity tools for production planning and monitoring:
PRISMAsync Job Scheduler
PRISMAsync Remote Manager
PRISMAsync Remote Control app for smart devices
Downloadable to a smartphone or personal tablet, the new Remote Control app allows operators to focus on other tasks while receiving real-time notifications of upcoming operator actions, such as loading media or adding consumables, or alerts of immediate actions needed. One or multiple PRISMAsync Print Server-driven digital presses can be monitored at a glance helping expedite manual interventions to increase device uptime and productivity.
Flexible and Intuitive Workflow
Improved copy and scan features provide users with a convenient and efficient method of document digitization with book copy mode, an easy copy screen, page numbering and a smaller scan file size, making the device ideal for high-volume copy/scan environments.
The Windows 10-based PRISMAsync Print Server driving the varioPRINT 140 Series helps streamline the job handling process with its highly visual press console and, in turn, helps reduce time spent training staff and manually managing the operation. By design, it fully integrates with Canon's PRISMA software suite of workflow essentials for production printing to improve total system performance and accelerate workflow, helping to keep rising costs in check and avoid setbacks. For integration into other existing workflows, the JDF/JMF interface of the varioPRINT 140 Series allows connectivity to third-party systems such as CIP4-compliant MIS or Web-to-Print solutions.
Application Quality
The varioPRINT 140 Series delivers offset-like, high print quality with sharp lines, halftone uniformity and smooth gradations through its ScreenPoint Technology's SuperCell rasterization. ScreenPoint Technology also allows the reproduction of color halftones and photographs as grayscale images with excellent resolution, dense black fills, and precise fine lines without operator intervention. The true digital nature of the varioPRINT 140 Series' unique DirectPress Technology all but eliminates quality degradation. Working in a single, stable digital process which isn't affected by light, static charge, temperature, humidity, developer or toner mixtures DirectPress Technology provides output consistency over time and from press to press; and results in outstanding reliability.
varioPRINT 140 Series offers a full range of in-line finishing and output options, including stapling, saddle stitching, folding, die punching, inserting, ring binding and high-capacity stacking, to automate manufacture of most print products. For further specialized needs, the Series' open Document Finishing Device (DFD) Interface enables in-line connectivity to third party devices.
Secure and Sustainable
Vital for many CRDs and in-plant printers that handle sensitive materials, the varioPRINT 140 Series is equipped with new security features to help provide better control over unauthorized usage and enhanced observation of user activity. Security features include user authentication by role or via LDAP-based operator login, a configurable user interface and extended audit logging.
The varioPRINT 140 Series is the latest of a long line of sustainable products offered by Canon. Utilizing leading-edge technology to produce a cleaner working environment, the varioPRINT 140 produces no ozone emissions with virtually no toner waste. Recognizing the importance of conservation, the varioPRINT 140 Series' energy consumption is among the lowest per print when compared to other devices in the marketplace.
Availability
The varioPRINT 140 Series of digital presses will be available through Varian Iran Company as Canon's Authorized Dealer in Digital Printing Market in Iran
For more information please visit www.varianiran.com.